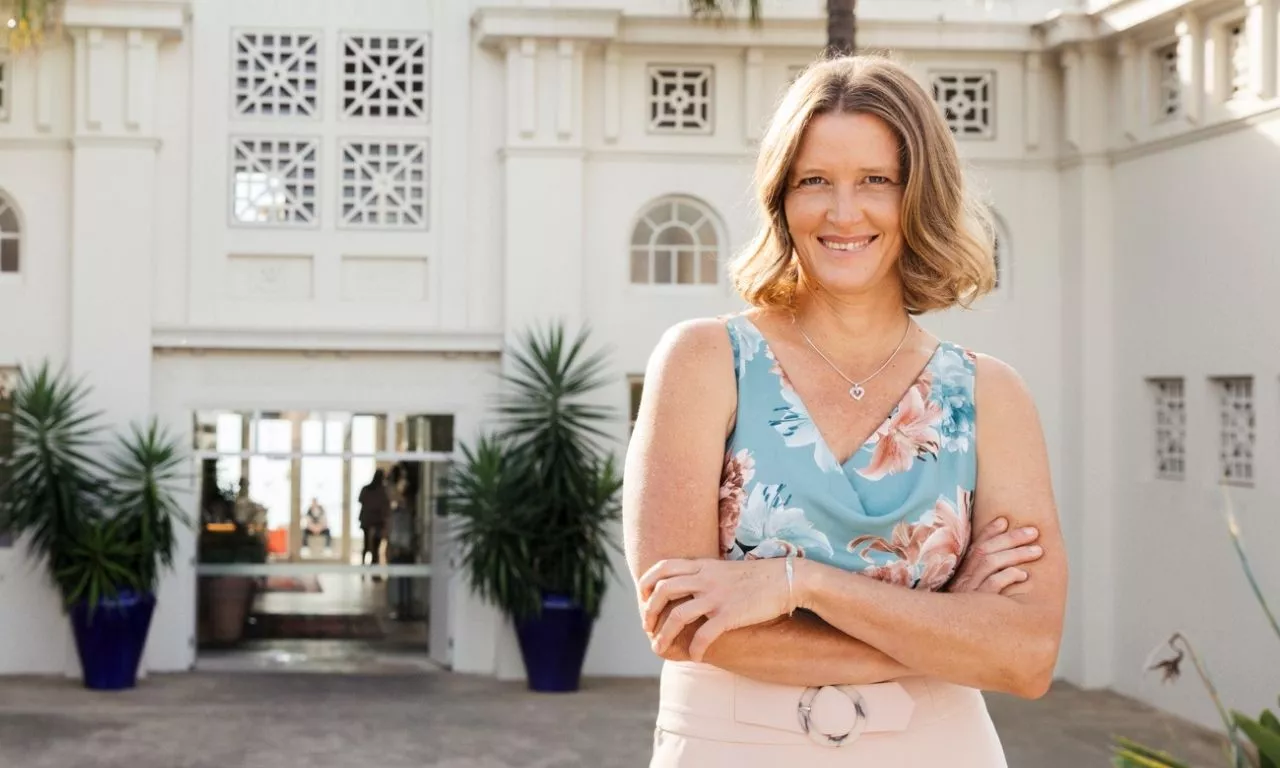 Sydney Marriage Celebrant – Meggan Brummer
The Luxury Experience
The ultimate wedding ceremony experience that has your guests feel they witnessed something incredibly special.
Internationally Published Writer
Your love story & bespoke wedding ceremony, written by Meggan, an internationally published writer & ninja story-teller. 
Instagrammable Ceremony
I ensure my outfit & style fit with your instagrammable wedding ceremony.
The only reason you don't choose Meggan is because she's already booked.  However, if that is the case I recommend changing your wedding date, that's how highly we valued her.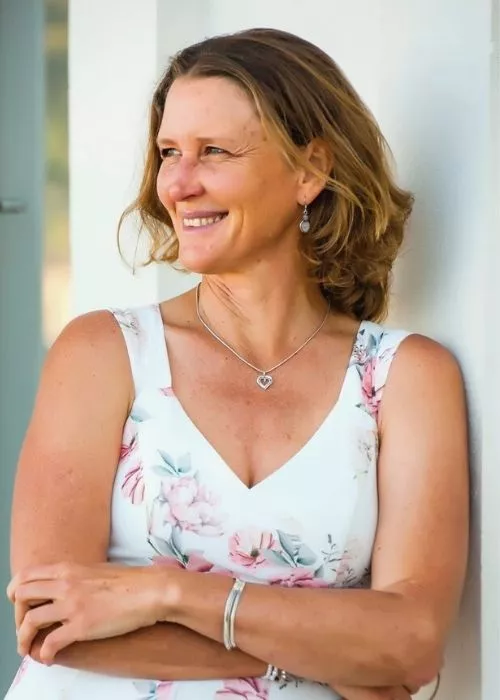 Meet Meggan…
As a yoga-loving, storytelling ninja and award-winning Sydney Marriage Celebrant, I help couples just like you have a wedding ceremony full of meaning, connection, laughter, tears & fun.
Drawing on 22 years experience as an internationally published writer my couples love that their wedding ceremony won't be generic, long & boring.  
Over my 12 years as a Marriage Celebrant in Sydney, I've helped heaps of couples feel relaxed, confident & totally at ease on their wedding day.  
I love celebrations that have depth & meaning & was fed up with attending ceremonies that were all fluff, so I became a Marriage Celebrant & created packages with authentic, juicy, honest, engaging storytelling. 
If you're looking for a top Sydney Marriage Celebrant to make this whole journey enjoyable, smooth & seamless, someone who can help you keep calm on the day, we could be a good fit to work together!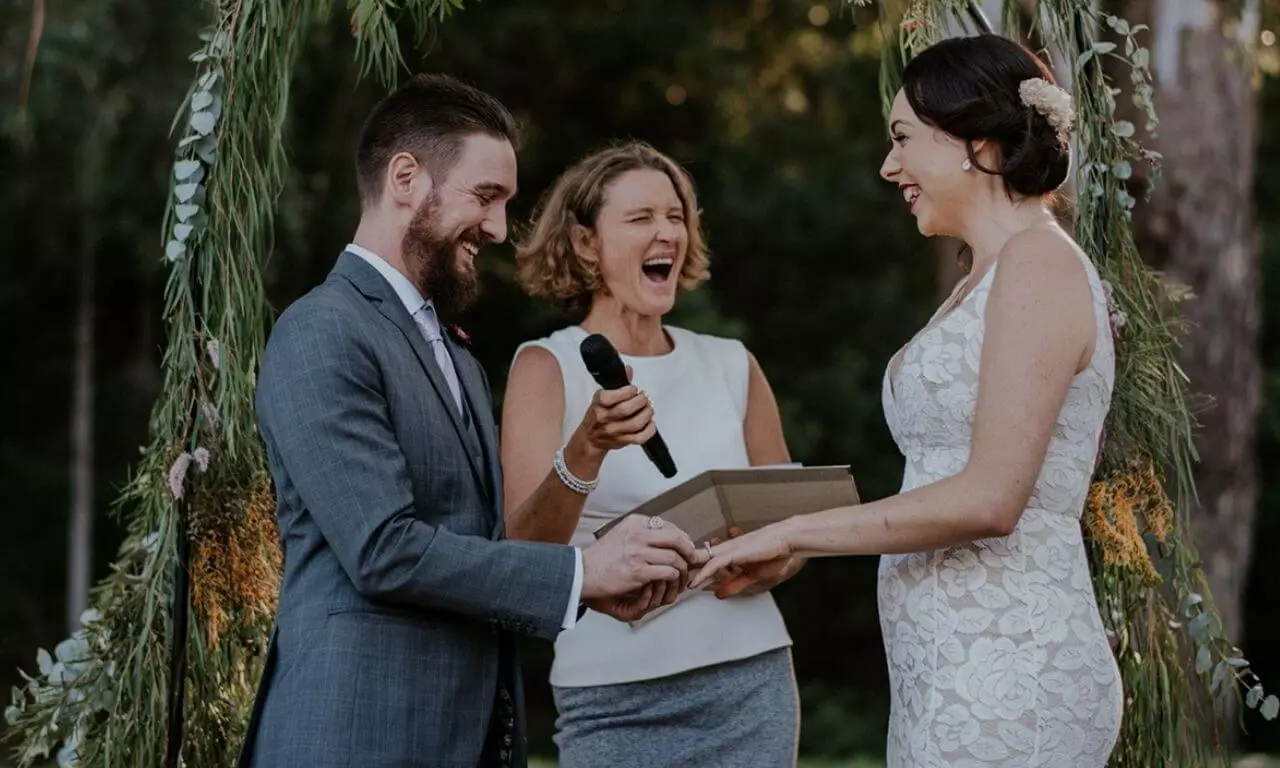 The Power Of Storytelling
Do you remember the last time you felt a warm fuzzy feeling take over you?
That's what happens at your wedding ceremony when I tell your love story – your guests get the 'warm-fuzzies' (it's actually oxytocin, sometimes called the 'love hormone', being released in their bodies). And it takes a very specific marriage celebrant (this celebrant) to pull off that kind of alchemy.
How I write and tell your story will have them feel connected to you and each other.  And they'll leave your wedding ceremony feeling they were part of something truly beautiful.  
If that's not a good reason to tell your story at your wedding ceremony– I don't know what is.
So you think everybody already knows your story?
Maybe they do, but I guarantee there'll be bits they don't remember or bits they aren't so familiar with.
Or gorgeous little bits that I add that they may never have heard before.
And even if they have – they will still love hearing your story told in a different way, by this storytelling ninja.
Perhaps you think your story isn't that interesting.
I promise you it is.
Every couple's love story is interesting if told in the right way, with the right choice of words & the right tone.
So here's the thing…
You don't need to have a love story worthy of a Netflix series.
All you need is an ordinary story written by me, a professional writer, shared in an authentic, real and relatable way.
Many couples say to me they want a marriage celebrant who's relaxed & calming, who doesn't steal the limelight, who isn't going to 'overdo it' by putting on a big performance at their wedding ceremony & who isn't cheesy
…and that's why my couples choose me.
3 Steps To Your Ultimate Wedding Experience
1
We meet on Zoom to see if we're a good fit & discuss ideas for your perfect wedding ceremony.
2
Using my experience as an internationally published writer, I create the perfect wedding ceremony for you.
3
You & your guests get the ultimate, luxury wedding experience.
Hear what my brides say after working with me…
Video Transcript For Hard of Hearing
Nicole – (Meggan was the Marriage Celebrant for Nicole and Simon's wedding ceremony at Woollahra, Sydney).
Hi, I'm Nicole and Meggan recently married my partner and I.
When it came to choosing a marriage celebrant, I was the worst I felt totally overwhelmed, I didn't know what to look for.
We chose Meggan because she is an internationally published writer and we figured that would be a good place to start with – Not having something boring and stuffy, that was painful that people got bored off. That was one of our biggest fears about our wedding ceremony.
Meggan was amazing to work with, and what we completely underestimated about picking her and why we ended up being so lucky to have done was because of how great she is at reading and personifying us and putting in everything that we wanted. She summed us up as a couple and shared things about us that we wanted to share with our close friends and family, she found a really great way to do this in a not cheesy and not embarrassing way at all.
Because I don't know about you, but thinking about writing personal wedding vows made me feel sick. And both my partner and I were like, No way!
But Meggan encouraged us to put down some fun things about each other. And they became our personal vows. And everyone complimented us on the wedding day and thanked us because the ceremony gave them a little window into our relationship. And they just felt really privileged and totally understood why we were getting married.
So that was the best compliment I could never have even hoped for. I knew it was the last thing I would have thought anybody would have said, and I was incredibly touched.
So on that note, I would 100% recommend Meggan.  Throughout everything, we were incredibly busy, we didn't really have a lot of time for our own wedding ceremony. And she was so patient. And so understanding and always with a positive and happy smile, and no worries, we can do this. And don't worry, we'll make this work. And she was just amazing! I cannot recommend her highly enough.
And it's sad it's all over and done with.
Once you do it, and you do it with a marriage celebrant as incredible as Meggan, who's able to make your wedding day so special and share such a beautiful moment with you. You want to do it all over again.
When we renew our vows. We'll be calling Meggan again.
Anyway, I hope this helps you make your decision. And thank you and thank you Meggan.
Steph – (Meggan was the Marriage Celebrant for Steph and James's wedding ceremony at Jaspers, Berry)
I'm Steph, I just got married by Meggan.  She was incredible to work with – highly recommend.  So professional.  And we just had the best ceremony, so definitely book her.
Matt and Anhtai – (Meggan was the Marriage Celebrant for Matt and Anhtai at Sergeants Mess in Mosman, Sydney)
We just got married at Sergeants Mess (Mosman) with the lovely Meggan.  And she was amazing. And the whole process with her has been fun, professional and easy and warm and loving and personal.  And we couldn't have picked a better celebrant.
Bruno and Nikita – (Meggan was the Marriage Celebrant for Bruno and Nikita at the Royal Botanic Gardens, Sydney)
Hi, we just got married, it's Bruno and Nikita.  Meggan just married us and it was absolutely phenomenal.  We loved every minute of it and she made the day amazing and super special.  It was the most beautiful experience and felt so comfortable.  It was the best.
Wedding Experiences & Prices
Frequently Asked Questions
​Where are you located?
I am based in Mosman on Sydney's lower north shore. Home to many of the best harbourside wedding venues in Sydney. I'm just a short drive from the Sydney CBD, the Royal Botanic Gardens, the Northern Beaches & Manly.
Are you specifically a 'Sydney' Marriage Celebrant or will you travel beyond Sydney?
I'm happy to travel. I'm often asked to perform my marriage celebrant duties in Hunter Valley, The Central Coast, The Blue Mountains, Wollongong and Bowral.  But I'm happy to discuss being your wedding celebrant anywhere in Australia.
I'm not an Australian resident, can I still get married in Australia?
Absolutely!
The requirements for getting married in Australia are the same for everyone. As long as you're …
At least 18 years old,
Not currently married to someone else, and
Not closely related to your intended spouse
When you decide to get married in Australia, you have the flexibility to choose any location and officiated by a civil marriage celebrant, like myself, or in a church with a priest.
Can you explain your process / how everything works?
I've embraced the digital age! Creating your ceremony, all our meetings and the wedding rehearsal happen online / via Zoom.
My couples love the convenience and the time this saves them when they're already so busy.
Here's how the process unfolds:
We see if we're a good fit for each other over a Zoom discovery call.
I'll then send you your quote and you sign up and pay online.
Next you complete your

 

NOIM. I'll witness this and check your ID documents over a quick Zoom call.
We collaborate together using online tools to craft your perfect wedding ceremony.
We have a online wedding rehearsal via Zoom that ensures you feel confident for the day.
You get married.