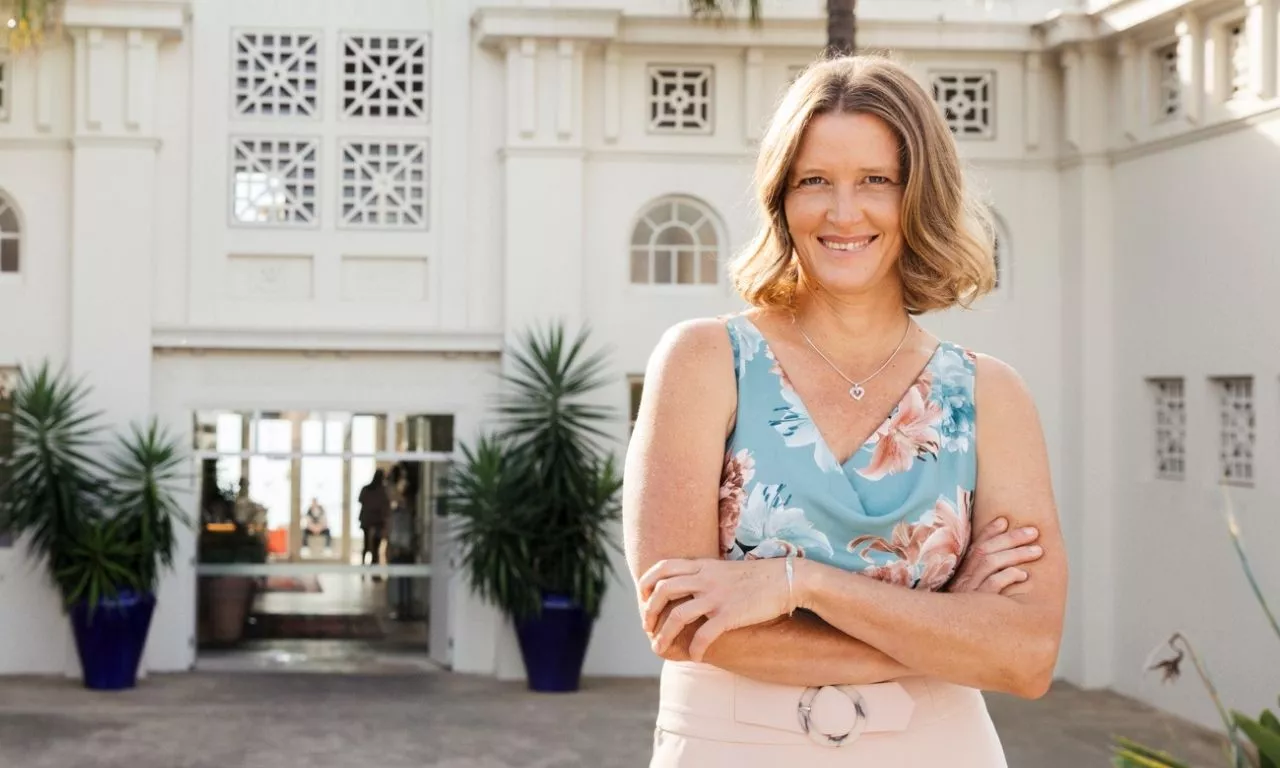 I want you to remember your wedding ceremony as one of the most awesome experiences of your life.
I want you to have such an epic time during your ceremony that you don't want it to end.
I want your guests to talk about your wedding ceremony as the best they've ever been to.
 What I'm here to help you do
I'm here to make sure your wedding ceremony is …
– Relaxed but meaningful
– Filled with warm, easy connection
– Peppered with laughter & tears … & just the right amount of fun. 
Want to know more about this yoga-loving, ninja story-telling Wedding Celebrant, who'll make sure you're relaxed on the day while she knocks the socks off your guests?  Read on.
Had my own newspaper column
My career exploded when I got my first newspaper column.  I loved writing about health, meditation, yoga, the Dalai Lama, anything uplifting & inspiring.
Became a yoga teacher

After living in London for a bit, I travelled the world on my own for a year.  9 of those months I spent in India.  And it was there, in Varanasi, where I became a Yoga Teacher before moving to Australia.
Started writing for magazines
I got printed in magazines all over the world & became a regular contributor for Wellbeing Magazine in Australia.  I've also written for Sydney Morning Herald & various travel magazines.  And then  …
I discovered my love for writing love stories!
And it's one of the things my couples love most … that I'm a ninja writer & brilliant, engaging storyteller who loves bringing meaning, warmth & connection to experiences.  With me couples get a ceremony where the oxytocin levels soar.  One that knocks the socks off their guests & gets the party started!
My typical couples are those who …
Really get the importance of an outstanding ceremony experience.
Understand how a brilliant ceremony hugely impacts the celebrations.
Value their guests having the best time ever.
Prefer shorter yet creative ceremonies because they value quality over quantity.
Love instagrammable experiences.
Believe it's not just about the destination but how you get there.
Value professionalism, connection, kindness & equality.
Are thoughtful, decisive,

conscientious & considerate

.
If you think we might be a good fit – book a zoom call below.
The only reason you don't choose Meggan is because she's already booked.  And if that is the case I recommend changing your wedding date, that's how highly we valued her.
Play this 1 min video to meet Meggan now …
Ok, but what am I really like? …
Am a regular meditator
Love singing in sanskrit
Passionate about finding balance
LOVE snorkelling with my hubby & son for lost treasures
Prefer big talk to small
Addicted to making a meaningful difference
Passionate about decluttering & organisation
Love relaxing in front of a fire
Dreamed of becoming an Olympic Gymnast
Have a rather silly sense of humour
Love adventure
Our love story Meggan wrote had everything!  It made everyone laugh, cry, smile, be engaged & on the edge of their seat.